October 5, 1968 – Vince "Kazi" McCoy was born to Royston and Florentine McCoy of Point and Freetown respectively. Vince spent his early years on Bennett Street in Villa before his family relocated to Belle Vue Heights in 1974.
Vince is a product of Villa Primary, Freetown Primary, Gefadem School, Antigua Grammar School and the Antigua State College (Advanced Levels Dept). He pursued tertiary education in the US: Manhattan Community College – Associates in Liberal Arts (summa cum laude) 1997; Hunter College CUNY – Bachelor of Arts in Music (summa cum laude) 2002 and Master of Arts in Music Education.
Vince rose to the ranks of 2nd Lieutenant in the Antigua Barbuda Defense Force.
He assumed the name Kaziwazi when he joined his first band in the mid-eighties as a drummer and vocalist. As the drummer for "Wifodemus and the Wifers" he taught himself to play the drums being influenced by local players like Dalma "Boogie" George and Andy Jacobs. Kazi then joined Lee Williams' band "Unity" which was later to be called "Charisma". While playing with Lee he honed his skills playing many different genres including swing and top 40 tunes.
Kazi has studied vibraphone and drums with Tom Mattioli of Brooklyn, NY and last studied with Cynthia "Cindy" Blackman. His performances include such diverse styles as reggae, calypso, soca, R & B, pop, and jazz on both drums and vocals. He has performed with many popular Caribbean artists such as Brigadier Jerry, Lukie D, Causion, Junior Jazz, David Rudder, Black Stalin, Chalkdust, Denyse Plummer, King Obstinate, King Swallow, and King Short Shirt. Kazi has also performed with jazz guitarist Roland Prince and trumpeter Valery Ponomarev, and more recently with reggae legends The Meditations.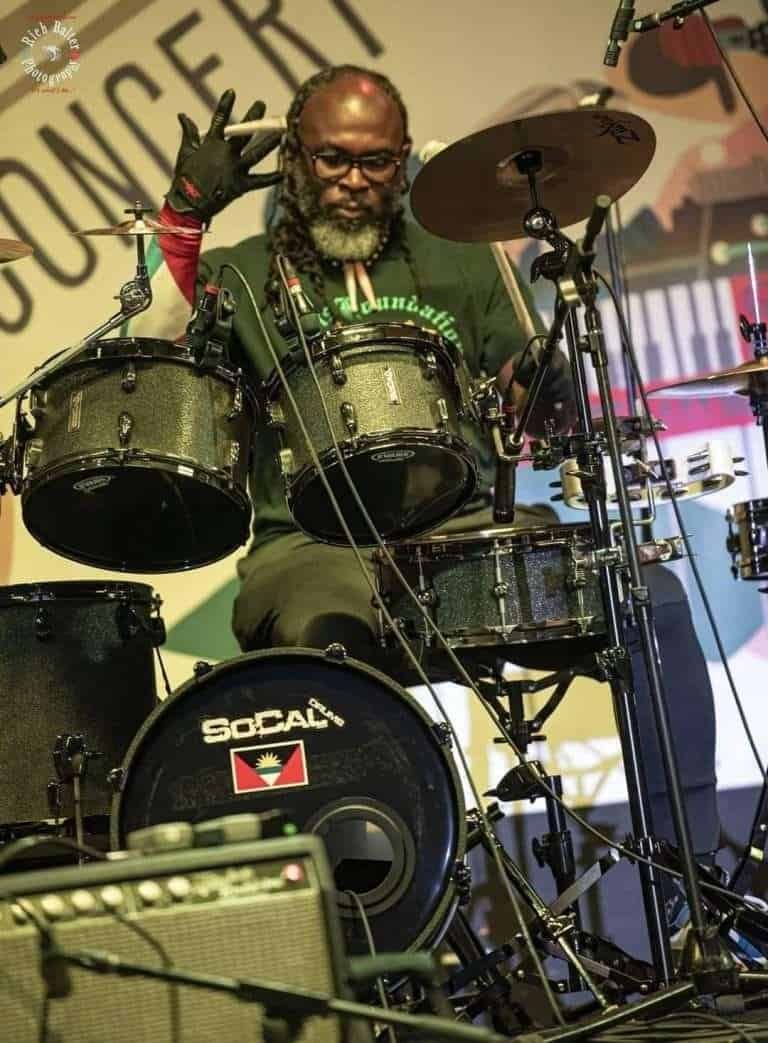 A highlight of Kazi's musical career in Antigua and Barbuda was when he was called upon to play with his musical mentor the late Statchel Edwards in the "Targets" band. Statchel was the one who got him deeply involved in Jazz.
He currently works in the US where he performs very frequently (at least twice weekly) on drums and vocals in various bands playing multiple musical genres to include Jazz, R&B, Gospel, Reggae and calypso. He is the assistant to the Jazz professor at Adelphi University in Garden City, Long Island. He is also a NYS certified schoolteacher who has directed award winning Jazz Ensembles.
 Vince remains committed to the performing arts at home in Antigua and Barbuda. He subs for many local drummers when they are unable to make certain performances. As a member of Wadadli Drummerz he frequently assists young drummers with various issues and is always willing to teach new concepts and techniques to help drummers reach their potential.  He has also drummed for several steelbands in the annual National Panorama Competition. 
He has produced and performed in two very successful "Jazz Night at Sugar Ridge". One on Saturday 10th August 2019 and the other on December 27th, 2019. The event in August was a benefit concert in which Vince brought in his New York based Jazz band and raised over $15,000.00 ECD for the St. John Hospice. The second event held on December 27th, 2019 was in collaboration with KC Productions and was a great success.
Vince conducted the 2nd annual Drum Clinic put on by the Anglican Diocese of Antigua for well over a dozen young drummers. During the four-hour session, Vince taught basic lessons on drum technique, setup and appropriate rhythms to use in a church setting. He also conducted training with many summer camps.
Vince is a fierce patriot of his native land and has coined the notion of an 'Antibudan' to encapsulate his twin-island nation Antigua and Barbuda. He is a member of Antiguans & Barbudans for Constitutional Reform & Education(ABCRE)