June 30th, 1959- Lieutenant Colonel Edward H. Croft was born to parents Ruth Henry (Cedar Grove) and Erold Croft (St. Kitts) and raised in the Point community. He began his early education at the Mission School (currently Wesleyan Junior Academy), however, after some time, he transferred to the Convent School (known today as St. John's Catholic Primary) which was housed in the old Treasury Department Building on High Street. Following this, he went on to the St. Joseph's Academy (SJA) during which time, he and his mother relocated to Sutherlands Development.
Upon graduating from SJA in 1978, Lt. Col. Croft completed a short stint at LIAT before moving on to the Antigua Commercial Bank (ACB) where he remained for a few years. During his tenure at ACB, he functioned as a teller as well as loans processor. At the time, it would appear that banking would have been on his career path, however, in conversation with an insurance salesman who was also a reserve officer in the military at the time, Lt. Col. Croft realised that what he really wanted was to be a part of a military setting.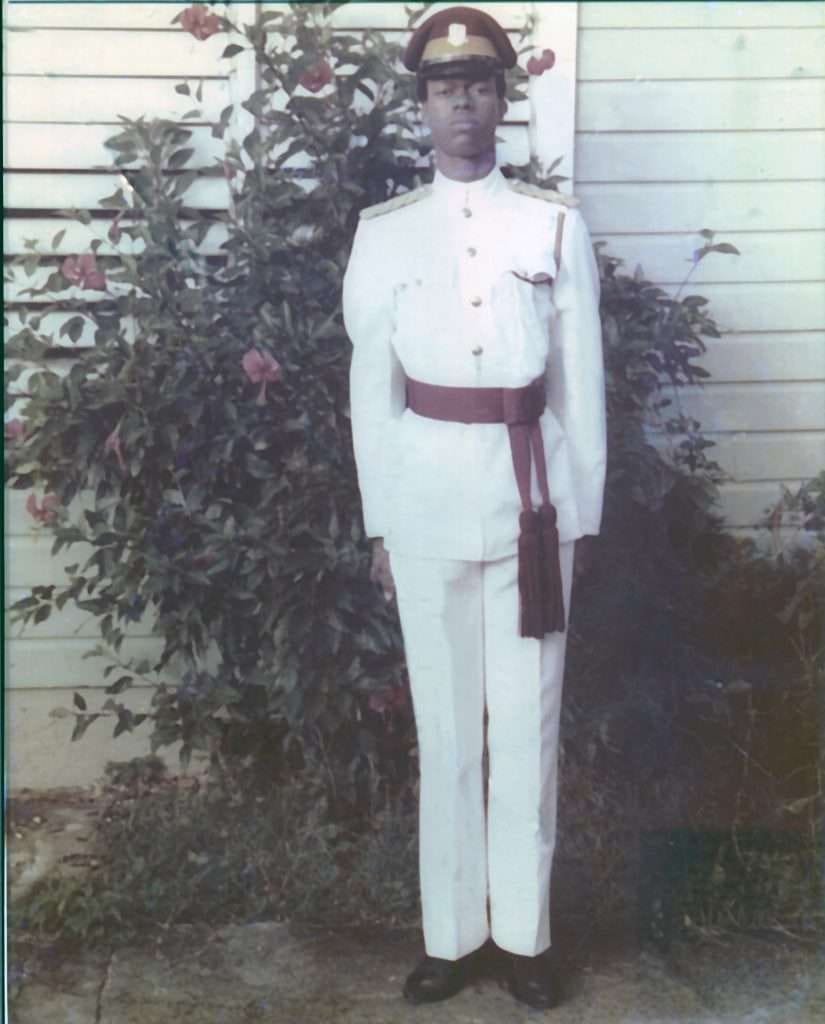 In his earlier years, he was a member of Scouts where he got the opportunity to play in the Antigua and Barbuda Scout Band, first on drums then on trumpet and this would have laid the foundation for his military interests. Additionally, it also sparked an interest in music which led him to be a part of various musical ventures to include playing in the Harmonites Steel Orchestra, Laviscount Brass, Burning Flames and Raynes Combo Bands as well as playing for Calypso and Carnival Shows with popular artistes such as Swallow, Short Shirt and Obstinate. His musical talents may have also been hereditary with his parents being musicians and entertainers. His mother was considered 'limbo queen of the world' while his father was a calypsonian and musician.
Lt. Col. Croft began his military career in 1980 when he enlisted as an Officer Cadet in the local regiment. This was around the time that discussions towards Independence were being held and one of the points of discussion at the time was for the country to have its own military as an independent nation. In 1981, himself along with several others accepted the call to be the very first set of officers within the newly established Antigua and Barbuda Defence Force (ABDF) on September, 1st, 1981. To mark the momentous occasion of attaining Independence, he was tasked with the responsibility of giving the command for the raising of the national flag on the eve of Independence.
As a full time member of the ABDF, Lt. Col. Croft played a very integral role in the development of the organisation. He was part of the founding team of the Antigua and Barbuda Defence Force Band which was implemented in time to mark the organisation's 20th anniversary. In 2006, he organised the first military tattoo which is a display of various military bands and activities such as drills, music and tactical presentations. This event saw the involvement of quite a number of groups to include the Jamaica Defence Force Drum Corps, Combined Royal Police Force and ABDF band, Her Majesty's Prison (HMP) staff and the Fire and Search and Rescue Department. The displays ranged from the various bands displaying their musical prowess and expertise at drills to instructional displays on protocols for visiting the prison by HMP staff.
In a bid to honour deserving officers, he also introduced the military medals/awards. He has served over 35 years in the ABDF and rose to the post of Vice Chief of Defence Staff in which he served for 10 years before being seconded to lead the Office of National Drug Control Policy (ONDCP) in 2007. In September 2019, he was honoured along with two other colleagues for long service to the Antigua and Barbuda Defence Force.
Lt. Col. Croft is the point person for Antigua and Barbuda to a number of key organisations and groupings to include the Caribbean Financial Action Task Force where he served as Deputy Chairman (2018-2019) and assumed the role of Chairman November 29th, 2019. He is the Antigua and Barbuda's Commissioner to the Inter-American Drug Abuse Control Commission (CICAD) of the Organisation of American States and has served as Chairman of the Caricom Standing Committee of Heads of Intelligence and Financial Intelligence Units during the period 2008-2012 and is once again serving as the current Chairman. He was appointed Coordinator for the National Risk Assessment on Money Laundering and Terrorist Financing and serves as Executive President for the local chapter of the Duke of Edinburgh Program.
Throughout his career, Lt. Col. Croft has engaged in extensive upgrading of his skills and qualifications. He holds a Masters in Business Administration (MBA) and is a graduate of the Canadian Land Force Command Staff College. Lt. Col. Croft also has post graduate certification in the areas of International Defence Management from the Naval PostGraduate School in California, Managing Defence in a Democracy from the Defence Academy of Shrivenham in the United Kingdom as well as International Financial Crime Prevention. He has received Certified Anti-Money Laundering Specialist Accreditation and is a qualified Caribbean Financial Action Task Force (CFATF) examiner on anti-money laundering standards. He was the first Caribbean national to be selected for training at National Executive Institute (NEI) which is a major component of the FBI Academy. More recently in 2020 he received the Charter Director (C.Dir) designation from the Caribbean Governance Training Institute.
Lt. Col. Croft has received a number of awards for his various accomplishments. These include the Meritorious Service Medal (Dec. 2000), General Service Medal-Grenada (Dec. 2000), Regional Security System Service Medal (1999) and Security Council Commendation (2004). He was also awarded by the Queen with the UK's Order of the British Empire (OBE) 2009, Companion of the Most Distinguished Order of St. Michael and St. George (CMG) 2014 and the Diamond Jubilee Medal (2022).
He considers the time that he has spent at the ONDCP as the most rewarding of his career as it has enabled him to play a role in 'taking drugs off the street and holding persons accountable who are involved'. He credits his success to the support received from his wife of 35 plus years with whom he shares two children and one grandchild. He is an active member of several lodges which offer a platform to give back to society as well as engage in self improvement.