20th October 1956 – Leeward Island Air Transport Services 'LIAT' was founded in Montserrat by Kittitian Sir Frank Delisle.
With only a single six-seater twin engine plane, operations began with flights between Antigua and Montserrat. With the acquisition of 75% by British West Indies Airlines (BWIA) in 1957, LIAT was able to expand its wings to other Caribbean islands and obtained at least two other types of aircrafts and a third in 1965
In 1971 LIAT entered the jet age, after British company Court Line acquired 75% of the airline from BWIA. Stretched British Aircraft Corporation BAC-one eleven twin jets were now being sported for longer distances, while a smaller twin propeller aircraft was being used for the closer islands.
The BAC- one eleven aircrafts were removed from the LIAT's fleet in 1971 after Court Line went bankrupt. This prompted governments of eleven (11) Caribbean islands to acquire the airline and all the jets were replaced by a series of smaller aircrafts.
With immense growth during the 1980's the Dash-8 turboprops were added to the fleet to reduce flight times and increase productivity. By 1986 LIAT was making daily flights to San Juan, Puerto Rico as well as other regions that the airline has never flown to.
In late 1995 LIAT was once again at risk of going bankrupt and was partially privatized to prevent this. LIAT also began operating the larger 50-seater de Haviland Canada DHC-8-300 Dash 8 turboprop. In June 2013, LIAT received its first ATR 72 series 600 aircraft (registration V2-LIA). The airline completed its transition from the Dash 8 fleet to an all ATR fleet in 2016.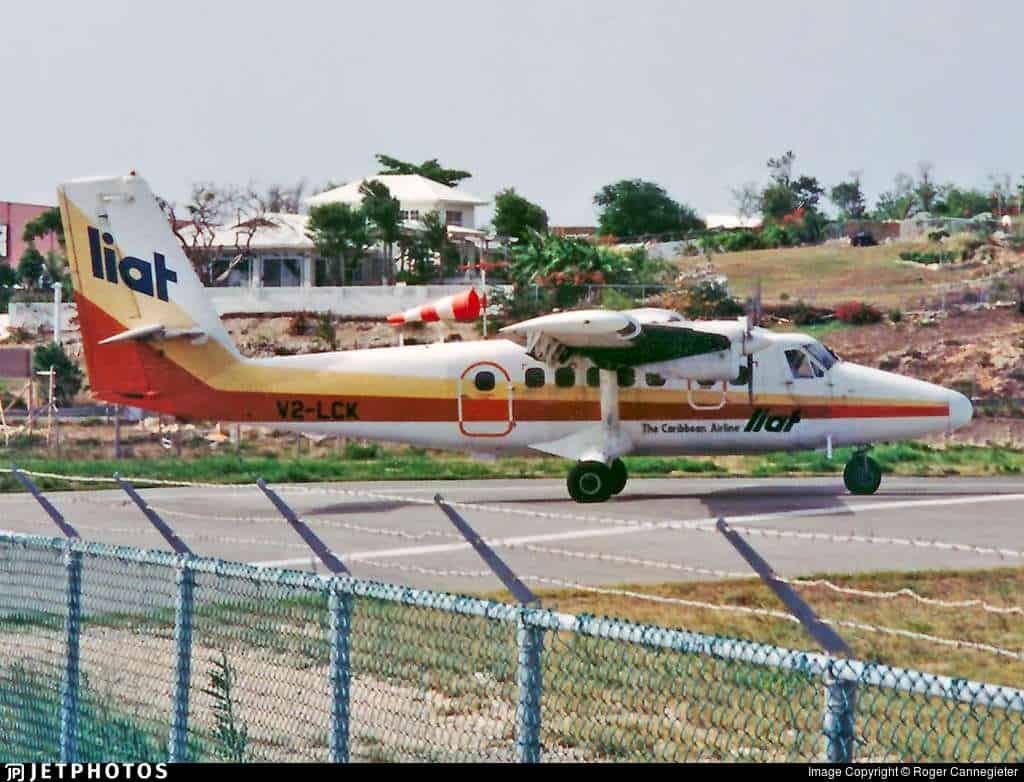 LIAT faced many challenges which threatened its viability. Among the most significant was competition from Caribbean Star Airlines from 2001 until the assets of that entity was purchased on October 24th, 2007, after a short-lived merger earlier that same year.
LIAT's service to Anguilla, Antigua, Dominica, St. Lucia, St Kitts, Nevis Montserrat and St. Vincent were codeshare with Carib Aviation. The discontinuation of all flights by Crib Aviation resulted in the cancelation of the agreement in 2008. In 2018 LIAT joined the Caribsky alliance with WINAir and Air Antilles. This alliance made it easier for the three airlines to operate with the codeshare agreement.
LIAT was owned by as many as eleven Caribbean governments, with Barbados, Antigua & Barbuda, St. Vincent and the Grenadines along with Dominica being the major shareholders at one period.
The airline faced bankruptcy and imminent shutdown in June 2020 directly resulting from the meltdown in international and regional travel associated with the Covid-19 pandemic. LIAT was placed under Administration as of July 24th, 2020, under the direction of Administrator Cleveland Seaforth of BDO Accounting Firm. The Antigua and Barbuda Government under Prime Minister Gaston Browne has committed to provide the legal, regulatory and other support required for continuity.
LIAT has provided cargo airport-to-airport cargo service and door-to-door custom cleared delivery across the region contributing to the increase in regional trade of goods. In 2011 plans were in the pipeline to convert a passenger Dash 8-100 into an all-cargo aircraft. Customers were excited to have been able to book their cargo online through the airline's website. Regional manufacturers, agricultural exporters and other traders were extremely interested in the startup of this venture.
LIAT remains headquartered in Antigua and Barbuda where the majority of operations are based.