March 25 1884- Though officially chartered on April 16th 1884, the Antigua Grammar School observes March 25 in recognition of its founder, Archbishop Samuel Edward Branch's birthday. To mark this momentous occasion, there is an annual Founder's Day service along with other activities. There also exists, however, empirical evidence that this date marks only a re-establishment of the school as it seemed to have been in existence prior to the year 1837. 
AGS was founded as an Anglican school and ran on British public school lines, being partly government funded.Though fees were paid by parents,, they were kept in an affordable range so that it could be accessible to the different social classes that existed on the island during the period. The school owed its existence to the Middle Class Education Act of 1882 and was presided over for more than 40 years by the founding Principal venerable and venerated Reverend (later, Archbishop) Samuel Edmund Branch. The first class had 11 boys and the school was initially located on High Street in the building which previously housed the Treasury Department before relocating to its present address, Lady Nugent Avenue.
From inception AGS accepted boarders from the French and Dutch Antilles, Danish (later US) Virgin Islands as well as from the British Leeward and Windward Islands.
In the 1970s Antigua Grammar School passed from Diocesan to full governmental control. A noteworthy commentary on the transition opined that the transition was 'not entirely pain free'. Mr. E T Henry noted "It appeared that there was a deliberate attempt to elevate other Government secondary schools in an effort to submerge the prestige of the AGS. The argument appeared to be that anything that had to do with colonialism, class and status must be despised and destroyed."
During the early 1970s a decision was made to amalgamate the Antigua Grammar School and the Antigua Girls High School as a coed institution. Forms 1 to 3 sat at the Nugent Avenue location, while forms 4 to 6 sat at the Newgate Street (AGHS). This combination was viewed by many as chaotic and ill-conceived, and the experiment lasted only until 1976 when it reverted to an all-boy institution.
Over the years, the school has produced a fine cadre of men who have excelled in various facets of nation building and continue to make their country proud. These include former West Indian cricketer and national hero Sir Vivian Richards, composer of the national anthem, Sir Novelle Richards, national flag designer, Sir Reginald Samuel, former Prime Minister and national hero Sir Lester Bird and current Governor General, Sir Rodney Williams.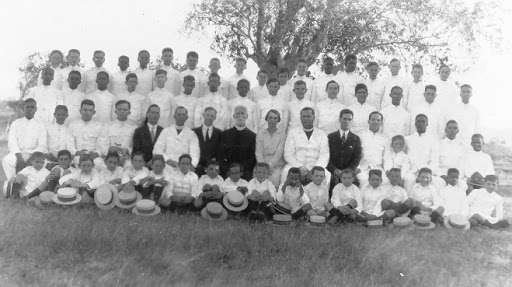 Antigua Grammar School survives to this day with a reputation in keeping with the school motto, Semper Virens, Always Flourishing. True to its rich traditions, it continues to deliver a challenging and enjoyable program focused on developing well rounded individuals who are guided in the development of skills in the arts, sciences, information technology, foreign languages and sports.
The school is the oldest secondary institution in the twin island state. 
Sources: Semper Virens by E.T Henry-Museum Newsletter 1992; 'Antigua Then' by Margaret Lockett; 'A History of Education in the British Leeward Islands, 1838-1945' by Howard A Fergus; http://www.antiguagrammarschool.org; https://antiguaobserver.com/guest-editorial