JANUARY 10, 2021 – The Inaugural Graduation Ceremony for the University of the West Indies Five Islands Campus, Antigua and Barbuda was held.
Six women etched their names into the history books as the first graduates having completed their Post Graduate Diploma in Education. They are Launee Richards (Valedictorian), Natisha Alie-Grant, Jerusha Baynes, Shanique Gumbs, Marsha Lay-Jarvis and Lakeisha Mack.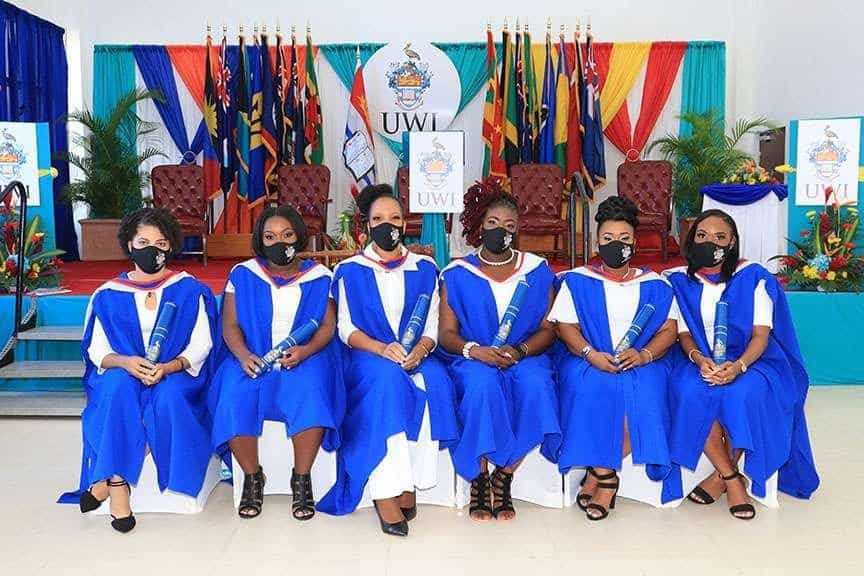 The UWI Five Islands Campus was approved to be established by the University Finance and General Purposes Committee on May 27, 2019. Thus, UWI Five Islands became the 5th Campus (4th landed campus) of the UWI family. The UWI Five Islands Campus is the first in the OECS Countries and, according to Vice-Chancellor Professor Hilary Beckles "provides a development platform for the countries of the OECS and expands The UWI's regional capacity to deliver higher education for the 21st century".
At the graduation ceremony Professor Beckles commended the regional governments for standing with the institution during these particularly challenging, covid-complex times. He stated that "together we are moving forward to a better future for our university and our region". He reflected on the resilience and resourcefulness of the graduates, who rose to all the challenges to successfully navigate their course of study.
History reminds that the first UWI linked graduation ceremony in 1953 passed out 11 graduates, all men. Today, 68 years later the first graduation class for the newest UWI campus is all women.
Dr Jaqui Quinn, UWI Mona graduate and valedictorian, citizen of Antigua and Barbuda, a tutor at the UWI Five Island Campus at the time of the historic graduation shared her thoughts on the milestone occasion. She was ecstatic, "our own UWI Campus and all women in the first graduation! Phenomenal!"

Valedictorian Launee Richards spoke on behalf of the class she referred to as the fabulous six. "We are the future, and we educate the future. Our dedication to teaching brought us to this journey". She spoke on the perseverance during the unexpected Covid-19 challenges. She expressed thank you to the lecturers and admins stay for their support especially during the uncertain times and closed with a reminder in the words of Zig Ziglar "if you are not willing to learn, no one can help you. If you are determined to learn, no one can stop you."
UWI is ranked No 1 in the Caribbean from among 150 Universities, The Times Higher Education has ranked The UWI among the top 600 universities in the world for 2019 and 2020 in the top 10% from among 5,000 universities in the Caribbean and Latin America. In 2021 The UWI further improved its global rankings to within the top 2.5% of universities based on the Impact Rankings and the UNESCO base data.