April 8, 1967 – Kenneth Charlie Griffith 'Kenny' 'Flipper' Benjamin was born to Cyril Benjamin (English Harbour) and Vencilla Simon (Liberta). Save for his overseas stints for playing and/or cricket, Kenny has resided in Liberta.
Mr. Benjamin's school life began at the Liberta Primary School before transfer to All Saints Primary to be under the watchful eye of their uncle,, teacher Vincent Benjamin. was processed by the parents. He attended the All Saints Secondary School where he representing the institution in several sports, most notably cricket. Kenny is on record that the All Saints Secondary School is the greatest cricketing school ever in Antigua and Barbuda, evidenced by the number of quality cricketers produced over the life of the institution.
Cricket was just one of five (5) sports that occupied Kenny's youth. His favourite sport was basketball and he represented his community in the national league. He was scouted to join the popular West Five Basketball Club by foundation member Bobby Joseph. He also represented his community in volleyball. He played with the Liberta Football Team in the ABFA Premier Division until the management dropped him to ensure he concentrated on cricket. Lawn Tennis was another sport in his schedule. Kenneth recalls representing his village Liberta alongside current Governor General Sir Rodney Williams in lawn tennis village leagues in the mid 1980s.
The journey to being a professional cricket started very early, when he was nine (9) or ten (10) in his backyard and in community matches with his friends. Kenny recalls his early days engaging in the game with his brother Porridge. The 'pitch' at the back of the house required running up hill to bowl. He recounts that there were numerous matches across communities on any field 'parsa' that was big enough to accommodate the teams.
His success during his cricket years at the All Saints Secondary School where he opened the bowling and batted number five (5) drew him to the attention of Taddy Arrindell and his eventual selection to the Combine School team. Among his standout memories he recalls a visit of Sir Viv and Taddy to MacPond to scout talent, when he was playing. He recalls fondly Winston Benjamin on his way to 'pasture' indicating he can bowl and being offered the opportunity to try.. After being loaned a shoe by a colleague, Winston bowled, and the rest is history. Of course, Kenny also gained selection.
Building on his Combine School success Kenny Benjamin was selected to Antigua and the U19 Leewards Islands Teams at 17 years old. He was the most successful bowler of that U19 tournament (1985), bagging twenty-four (24) wickets. He, along with Carl Hooper, gained scholarships to Australia to play cricket while attending academic courses. Kenny started pre-university courses in Electrical Engineering. Kenny recounts that both players were drawn to the prospects of playing U19 cricket back home more than pursuing their respective courses. After consulting with his father, to the chagrin of the then WICB CEO Stephen Camacho, Kenny and Carl returned to the region, headed straight to Trinidad to play for their respective U19 teams. He was the most successful bowler for the 1986 U19 regional tournament with nineteen (19) wickets.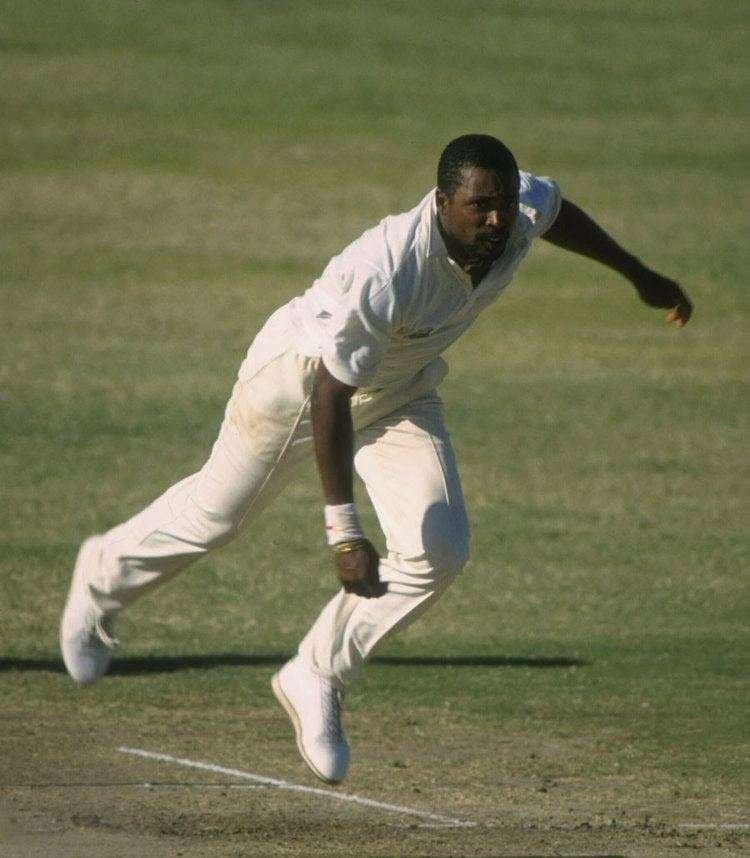 He earned his first call up for the Leeward Islands team in 1987 and again in 1988, but his on field debut was 1989. He recalls his first regional series wicket, that of Robert Hayes in the 2nd match of the 89 season in the second match in Jamaica, versus Jamaica.
1992 was a standout year in Kenny's career. That year he snagged seventeen (17) wickets during the 3 match series against England's A Team and twenty-five (25) wickets during the regional series playing with the Leewards.
Kenneth earned his test cap in 1992 against South Africa in the only test of the tour at Kensington Oval. He recounts "for the first call up I figured it was my opportunity to get accustomed to being around the guys. WIth the likes of Walsh, Ambrose, Patterson and Bishop among others fast bowlers in the Windies arsenal Kenny last thought was that he would make the eleven. Imagine his surprise the night before when he was named in the starting eleven. That match was played before a sparse audience as the home crowd opted to boycott to demonstrate their displeasure at the omission of one of their own. Kenny got two (2) wickets in a thrilling encounter that was dominated by fellow Antiguan and Barbudan Ambrose. West Indies won.
Kenny would go on to play 26 Test Matches and 26 One Day Internationals for the West Indies. Among his notable performances was his twenty-three (23) wickets in the six-test series in England in 1995. This series included a ten (10) wicket haul in the fifth Test (5/107 & 5/69). The performance in that series earned him 10th place in the ICC Rankings.
Kenny sharing on his two most memorable moments playing for West Indies
After his departure from West Indies cricket as a player he did a few seasons in South Africa and England cricket leagues. He transitioned to coaching earning the requisite technical qualifications to include levels 1 and 2. He completed the High Performance Level three (3) in 2010. He served as the regional fast bowling coach during the Pat Roseau era, as Assistant Coach during West Indies tour to South Africa and Zimbabwe and as ICC's Technical Director to team USA. Flipper had coaching stints in South Africa and Trinidad and served as Training Development Officer for the Leewards. He also did a successful stint with the Windies U19 team.
At home Kenny's longest coaching stint has been with the Liberta Sports Club from 2008 to present. Under his guidance the PIC Liberta Black Hawks has played in forty-nine (49) finals and won thirty-seven (37). He has been Club President since 2010 and currently fills in as coach for Wilden Cornwall who is on coaching duties for the Leeward Islands. He is also responsible for the upkeep of the field and the continued development of Ball Beef. Asked about his most impactful contribution to his community sports club he indicated his work on the developing the infrastructure at Ball Beef in Liberta
Kenny sharing on his two most significant contributions to his community sports development
Kenny has also served as a Physical Education coach at Princess Margaret School while employed with the Department of Sports and Games and as an Insurance Agent with CLICO. He also worked in the yachting industry alongside his father performing boat maintenance services and woodwork repairs. Presently, he also co-hosts a sports show.
Denmore Roberts, former President of Liberta Sports Club and lifelong friend of Kenneth shared "Working with Kenny Benjamin daily is a wonderful experience, you can count on getting an honest opinion and what you see is what you get. What some people don't know he also has a soft heart for young people and his community. I enjoy the pleasure of working with him"