October 20, 1955 –
ACB CARIBBEAN,
formerly known as the Antigua Commercial Bank was incorporated as The Antigua Co-operative Bank Limited. It registered a share capital of EC$100,000 and became the country's first indigenous bank and public company. The Bank's operations started on January 3, 1956, at the former Chelsea Building on Newgate Street in St. John's, its first location. In its early years, ACB CARIBBEAN became well known for assisting entrepreneurs and small business owners, who started their operations as national pioneers. The Bank also allowed customers to open savings accounts with a minimum amount as low as a penny (2 cents), thus earning the name "Penny Bank" in its formative years. ACB CARIBBEAN experienced tremendous growth over the years. It has emerged from a Savings and Loans Association to a full-service commercial bank, offering General Banking, Personal Banking, Corporate Banking and Mortgage and Trust Services. On March 22nd, 2021, the Antigua Commercial Bank was rebranded to ACB CARIBBEAN.  Shortly after on April 1st of the same year ACB CARIBBEAN acquired the operations of RBC/RBTT in Antigua and Barbuda and Grenada.  The Bank's mission is "to be the leading financial services provider by exceeding our stakeholders' expectations through exemplary service, innovative products and adapting to an ever-changing environment."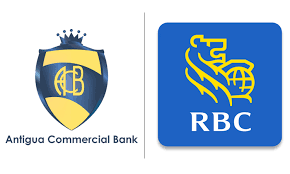 On October 25, 1969, ACB CARIBBEAN moved from its original location to Thames & St. Mary's Streets in St. John's, where its Head Office is now located. The Bank has physical locations on Antigua (four branches), Barbuda (one branch) and Grenada (two branches), supported by 12 Automated Teller Machines (ATMs), including a multi-currency ATM, which is located at the lower floor of the terminal of the VC Bird International Airport. The Bank also operates a fully owned subsidiary, ACB CARIBBEAN Mortgage & Trust Company Limited, which was founded on October 1, 1987, and has since become the largest provider of mortgage financing in Antigua. Antigua Commercial Bank has had many accomplishments as the nation's leading indigenous financial institution. Apart from offering attractive credit products to empower customers to own land, home and business, and to attain a high level of education, the Bank also takes its corporate social responsibility seriously, as it helps to improve the quality of lives of the people of Antigua & Barbuda through culture, education, sport and the community development. Antigua Commercial Bank (ACB CARIBBEAN) is the largest indigenous commercial bank in the OECS region, with an asset base in excess of two billion Eastern Caribbean Dollars.
ACB CARIBBEAN – Simply Smarter Banking.
Some Important Dates in ACB CARIBBEAN's Storyline: * April 1, 2021 – ACB CARIBBEAN acquires RBC/RBTT holdings in Antigua and Grenada * March 22, 2021 – ACB CARIBBEAN rebrands to ACB CARIBBEAN * October 2009 – ACB CARIBBEAN wins Pioneer Award from Caribbean Credit Card Corporation * October 2007 – Change of logos for ACB CARIBBEAN and ACB CARIBBEAN Mortgage & Trust. * October 2007 – Launch on Internet Banking * September 14, 2005 – ACB CARIBBEAN launches E-commerce solution at ICT Fest 2005 * July 1, 2003 – ACB CARIBBEAN floated a US$22 million bond to dredge the Heritage Quay Pier to accommodate mega cruise ships *March 17, 2001 – ACB CARIBBEAN's partners with HAMA to produce the OECS' first locally produced full length feature film *October 22, 2000 – ACB CARIBBEAN Mortgage and Trust Company Ltd. officially opens ACB CARIBBEAN Financial Centre *January 22, 1992 – ACB CARIBBEAN Louis H. Lockhart Scholarship Programme is launched. *December 1, 1990 – ACB CARIBBEAN launches its "Penny" ATM service. The first bank to offer ATM service in Antigua & Barbuda *October 20, 1989 – ACB CARIBBEAN launches its Student Loan scheme. The first commercial bank to do so. *October 1, 1987 – ACB CARIBBEAN Mortgage and Trust commence operations *September 15, 1987 – ACB CARIBBEAN Mortgage & Trust Company Ltd., a wholly owned subsidiary, is established. *September 30, 1985 – ACB CARIBBEAN achieves its goal of becoming the bank with the largest share of deposits in Antigua & Barbuda *April 1984 – ACB CARIBBEAN is the first bank in Antigua and Barbuda to be computerized *October 27, 1969 – Commencement of Commercial Banking *July 15, 1969 – Commencement of conversion from a savings & loans association to a commercial bank