March 14, 1963 – Mr Atlee Patrick Rodney was born in the Village of Savanne Paille, Commonwealth of Dominica. He is the last son of the late Mr. Joseph "Alphonso" Rodney and Ms. Ineze Ettienne, both of Dominica.
He attended the Savanne Paille Government School and the Portsmouth Secondary School in Dominica, completing his studies by age 15.  Initial thoughts of pursuing post-secondary studies fell away when he was advised that there would be a vacant teaching post.  He applied and was appointed as a temporary teacher in January post his 16th birthday at the primary school in his community.
His interest in the security forces was jogged by an activity he attended featuring the then Dominica Defense Force.  In 1981, shortly after turning 18 he applied to the Dominica Police Force but after numerous deferrals and  uncertainty, and having given up his teaching position, after consultation with his father, he made the difficult decision to journey to Antigua to enlist in the Royal Police Force of Antigua and Barbuda.
Rodney was sworn in as a Police Constable and assigned Force number 64 on the 15th of January 1982. He underwent six months of recruit training at the Police Training School recently renamed Sir Wright F. George Training Academy. It was the start of his Policing career that would see this former teacher using his already vast knowledge to forge a path for success.
Mr. Rodney served in many area of the Royal Police Force of Antigua and Barbuda to include Special Service Unit, Narcotics Squad, All Saints Police Station, Barbuda Police Station, Criminal Investigations Department, in the Tactical Unit, Police Training Academy as Chief Instructor, and Staff Officer to the Office of Commissioner of Police. He was one of the first DARE officers who taught drug and violence prevention in primary schools, worked in the Office of the Director of Public Prosecution, and served as a Prosecutor in the Magistrate Court.
His tenure at the Training Academy is noteworthy.  He held the rank of Senior Sergeant when he was transferred from the CID to the Training Academy and was appointed to Chief Instructor in August 2002 while still Senior Sergeant, though that post is normally reserved for Inspector upwards.  Mr. Rodney's vast knowledge in policing and his capacity as a training officer earned him the promotion.
Among his training Mr. Rodney pursed the paralegal course at the Antigua State College. He also pursued a Public Relations Diploma at CARIMAC in Jamaica, during which he completed his practicum with the Jamaica Police Force. In 2005, Mr. Rodney applied for and was granted study leave after being awarded a scholarship to pursue a degree in Communication Science at a University in Mexico. He graduated with honours and returned to Antigua armed with the necessary tools to continue his  career.
Mr. Rodney participated in several courses with the Regional Security Services (RSS) beginning with basic courses from 1987.  He was identified with leadership potential and elevated to leadership course and was again recommended to participate in the train the trainer courses and eventual became a trainer with the regional unit from 2013 in basic training.  He moved through the ranks of the RSS becoming a trainer of middle management and senior level officers.
Mr. Rodney was seconded as a Staff Officer to the RSS Headquarters in Barbados for two years (2014 – 2016) participating in the RSS operations and planning of RSS events. He credits the experience for providing the platform to continue to develop him management skills.  Mr. Rodney's crisis management expertise was honed during his stint at the RSS. He led the RSS mission to Dominica in the wake of Tropical Storm Erica in 2015.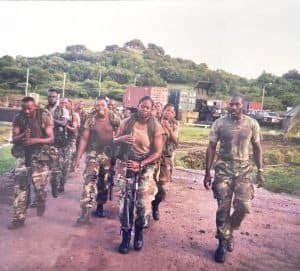 In 2017 he led the RSS missions to Dominica post hurricane Maria, a CDEMA mission to the BVI post hurricane Maria and the National initiative to evacuate Barbuda post hurricane Irma.
After two (2) years acting, Mr. Rodney was appointed as Commissioner of Police effective November 25, 2019.
Commissioner Rodney was an engaged member of the ILEA Roswell Alumni Community in 2019. In 2021 Commissioner Atlee Rodney has been elected to the post of First Vice President of the Association of Caribbean Commissioners of Police, ACCP.
In 2020 he awarded the Queen's Police Medal (QPM) for his contributions to National and Regional Security. The Queen's Police Medal is awarded to police officers in the United Kingdom and Commonwealth of Nations for gallantry or distinguished service.
In 2022 he awarded the Queen's Platinum Award for his contribution to national security in Antigua and Barbuda.
Mr. Rodney lectures on various courses in a variety of subjects to include Emotional Intelligence, Leadership, Ethics and Communication. These training courses have been at the local and regional level for various law enforcement agencies.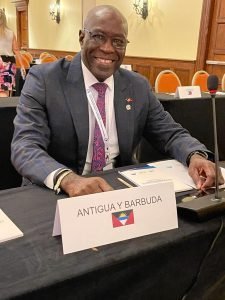 Commissioner Rodney gives credit to his God, his family background, his wife and the support of a wide network of transplanted Dominicans, as well as the residents of the Villa community, as the platform for this overall body of work today.
Complementing his policing career Commissioner Rodney is  from a family with a rich religious background. He advises that all his accomplishments are with God's grace. In 1983, Mr. Rodney became a member of Villa Baptist Church and was very involved in the church's activities. In 1988, he was ordained as a Deacon and has had several opportunities to preach to the congregation.
Commissioner Rodney is a people's person and has great interest in learning and teaching. He was a Sunday School Lesson writer of the Caribbean Christian Publication for a number of years and has served in various Church ministries to include young and senior adults Sunday school teacher.
Mr. Rodney continues to give God thanks and praises for his life and all his achievements.