May 10, 1966 – Donald Zorol Barthley was born to Rolston Barthley of Freetown and Zona Barthley (nee Carr) of All Saints. He was born on the Willis Freeman Estate  (now Ras Freeman) since, at the time, his father was an overseer, however, around six months after his birth when his father entered the insurance industry, the family relocated to Matthews Road, All Saints. 
Barthley's educational journey began at Ms Walters Primary School which was located on Redcliffe Street, in the same location we know today as Beautyrama. The next few years would see him transitioning across schools to include the Hill School, which was in the vicinity of Straffies, and the Sunnyside Tutorial school before finally settling in at St. Joseph's Academy (SJA) in 1977 after placing third in the school's entrance exam. 
From the very first day at SJA, Barthley was quite impressed with the school's sports program and the overall positive energy displayed towards the area by members of the institution. He admits that during his first year, his academic focus dropped somewhat as he became very invested in the sports program, participating in and representing the school in a variety of sporting areas. However, he was able to find a balance as he went on to be quite adept at his performance in sports while being quite impressive at Literature and Mathematics. 
Cricket quickly became a solid area of interest for Barthley during his time at SJA. He would go on to be a part of the combined schools cricket team under the tutelage of coaches such as Guy Yearwood and Pat Martin. He considers, however, the biggest influence in his cricketing life to be Carl 'Taddy' Arindell who took over coaching the team in 1983. In Barthley's estimation, 'Taddy' took the experience to another level by being more than just a coach to the boys showing them the tough love necessary to excel in the area. Barthley's enthusiasm for cricket was a passion also shared in the family as his mother and aunt were also avid cricket fans. 
He recalls going to cricket at Antigua Recreation Grounds (ARG) as a young boy with his scorebook and paying attention and keeping a tally of the score; a record, he boasts, was more accurate than the scoreboard itself. 
There were many opportunities to get exposed to various facets of the game in his native All Saints community with mentors such as Hardy James, Alfred ' Colo' James and Uriah Caleb who were all popular on the local cricket circuit. However, he points out that it was the return of Danny Livingston to Antigua that prompted him into realising the big difference between fun and professional when it came to cricket. Livingston, incorporated his experience from years of playing in Hampshire and being exposed to a high quality of professionalism in the sport, into the domestic cricket experience. 
Though Barthley is best known for his work in the administrative aspect of cricket, he was able to make a viable contribution as a player. He considers the pinnacle of his playing career as being the first person representing Antigua to be selected to captain the West Indies Youth Team. He also represented Antigua and Barbuda, the Leewards Islands U19 and Surrey 2nd eleven team.  He was a right handed bat (opening batsman) and bowled right arm off break. 
As an administrator, he managed his first team in 1988 at the age of 22 and he was the first Antiguan to be a part of executive management at the West Indies Cricket Board serving as Head of Cricket Operations from2003 to 2006.  He also served as President of the Antigua and Barbuda Cricket Association-ABCA ( 2012-2014). His most recent administrative appointment is that of General Manager of CricViz for the Americas as of February 2023 where he engages in sports data and analysis. 
Outside of the business of sports, Barthley also followed in the footsteps of his father by becoming involved in the insurance industry. Upon graduating from school, he gained employment briefly as an Accounts Clerk at Halfmoon Bay Hotel. Shortly after, he went to England for about two years  to pursue studies in general insurance which ultimately led to specialisation in marine insurance.  Around age 25 or 26, Barthley enrolled in the American Flyers College in Florida where he graduated with a commercial pilot, multi engine licence. Upon completing his aviation training, he was invited by LIAT to attend their ground school, however, while waiting for them, he was offered a more financially  rewarding job in sales with the Yellow Pages. 
Over the years, Barthley has engaged in a number of entrepreneurial ventures to include forming a publication company; Regional Publications (2003-2009) and a car dealership, Prestige Motor Ltd. which was the first BMW car dealership in Antigua and Barbuda (2007-2008). He also served in various capacities at PIC People's Insurance Company Ltd. since his father established the company with his most current post being that of Director as of 2002. He also owns and operates a company which specialises in organising and managing any sporting event, tour operations and logistics.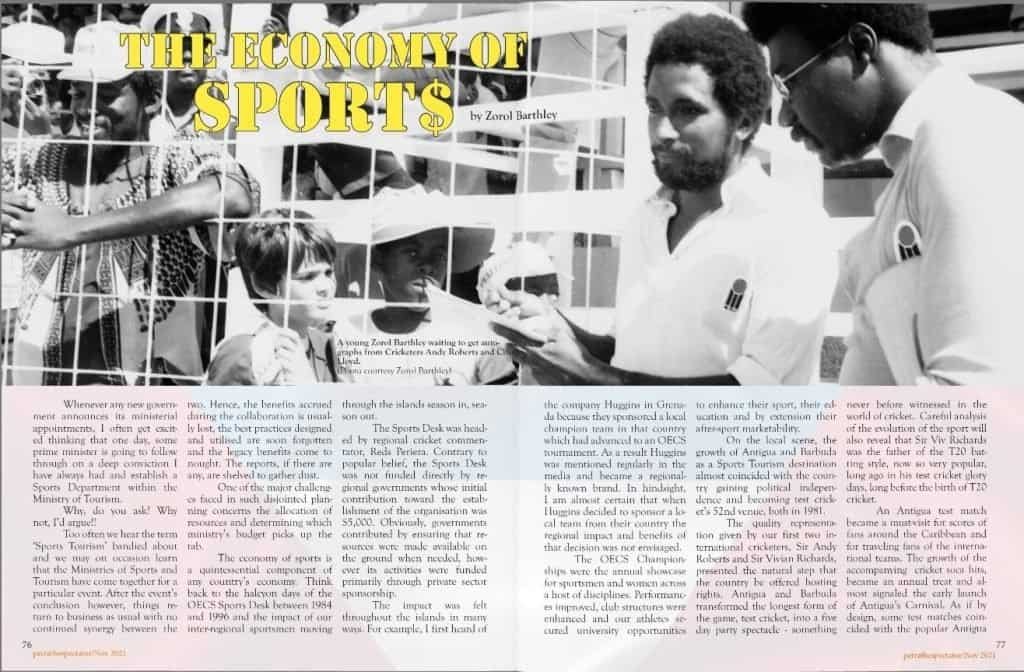 Even though Barthley no longer serves in any executive role in cricket, he still continues to be very much a part of the ABCA. He serves as a commentator on local and regional panes and writes cricket features for local, regional and international media houses. He is hoping to see greater focus on the developmental aspects of the sports as opposed to the heavy emphasis placed on results as currently obtains.